Olat Jäger Aur David Herzel Dono lea janm Unnesh saw unhatter main huaa. Way kai vaar yek dusare say Bielefelder. ( Germany ka nagar) Blues, aur jazzscenes main milay sheay. Sangeet main gahan prasikshan kay karan.Sangeet par unkee samarpit ho jaane kee chah shee Bahut saare M.C.Prakashan kay baad. February uneesh sa ninnyanway main unhonne ish C.D kee Bahut mang our kaka rat mak prati dhwany hi, ashliye way aur zyada CD kaa nirman karna chahtai nain.Olat Jaeger kaa piano say rasaw chka warsh kee awastha say suru huaa. Saalon tak anek sikshakon kay sanrakshan main piano basanain kay chaltay unhon nay boosi woosi kaa yeak alag prakar Jaaz kee khoz kee.Aneken prasudh piano badak kay saarth kaam karnain say way bahut utsahit huway.Ish liye unhon ne ish sngeet ko aanekon jagah khud aakay lay bee aur samuh kay sath bee pradarshit kiya.

David Herzel ko Piano aur naal bazaanin kaa saalon kee prasikshan prapt iha. Isk kay baad unhain Jazz, Solo, aur Latin samuk kay saath barshon kaam karnain kaa anuvco prapt tha.Wah apnaa anubhaw Boogie Woogie aur Blues main darsha sakatai hain. Own dono kee sanyukut prayash say nirmit sageet woosee tarah budhtay gayai jaisay Boosi Woosi aur anainkon Jaz style bazanain kee oonkee oonkee utsah apnain teebra dharma kay phalaswaroop way mahaan sangeet kaar Jaisay-Larry Garner, Jimmy Rogers, Jonnie Johnson, aur bahut saaray urop kay sangeet kaar say milay.

Unneesh saw ikyanway say yah ashli Jodi Bahut Saaray Blues aur Jaaz Club Nee Jee Utsav, Pubs, Tyohar, Hotel, Bar ityadi main anek maukon par apnee pratibha dikhayee.
Piano baadak James Booker, Roland Byrd, Otis Spann ya bari tikri Albert Ammons, Meade Lux Lewis, Pete Johnson aur Naal baadak jaisy - Art Blakey, BigSid Caltett, Jo Jones, J.C.Heard, aur Fred Below say Olaf Jäger aur David Herzel Prabhabit Hain.Jodi, asal Jodi Stavanger (Norway), until nizza(France) say dhyan aakarshit kartain hain. dono Sangeet badan bahut chahtay hain. Yah unke jeevan kaa ang hai, ishliyai srota cheep nahee rah saktay. Olaf Jäger aur David Herzel apna khud ka show prasteet kartay hain,Jisay aap kabhee nahee bhulengay.
An dono badakon kee aabaaz
Asal jodi naam hai
Shakti aur goon ish bastarik sangeet kaa
Jishay aap apnain mastksh main rakhtain hain --Kieler News Nov-1995
Blues aur Jaaz aasadkaaran ho sakatee hai, Mukyatah Boogie Woogie kay ish Prakasan say Piano badak Albert Ammons kay ' 6TH AVENUE EXPRESS" ko David Horsel nain sabalta poorwak pradarshit kiya. "The Suitcase Blues" Olaf Jäger kay liye ek tyohar thaa.unhonay aapnee sahee saktee, choti madhur pankti aur nirantarta say byakhya kiya lai. "For you my Love" - "Tumharay liyay mera pyar" Kabya shaily nain darshaan gaya.
Olaf Jäger ek ahoot sundar piano badak hain.Wah sabhee bhaw pradarsheet kartay hain.. David Herzel naal par kikhatay hain kaisay taal. Aur dhun ko milaya jaai. Dono piano aur naal. Bajaanain kay yogya hain.
"IS YOU IS or IS YOU AIN'T MY BABY" Louis Jordan ka 'toom no yaa toom nanhee ho meri bachee" prasn aur uttar kaa khel hai, naal aur piano kay beech yah paripoorn hai.

David Herzel kaa naal baadan bahoot sundar hai. Pub main wah naal badam aashehaya janak roop say kartay hain. Yah bahoot sukhad iha.
Olaf Jäger et David, tous les deux nés en 1969, firent la connaissance au cours des Nombreuses rencontres dans le milieu de Bielefeld du blues et du jazz. Grâce à une coopération intensive, leur désir fut de se consacrer complètement à cette musique vivante. Après beaucoup de publications de MC, leur CD actuel Green Times Blue sortit en février 1999, célèbre une résonance positive et est très demandé. D'autres CD sont projetés.
La passion pour le piano d'Olaf Jäger commença à l'âge de six ans. Après de nombreuses années avec des professeurs divers, il découvrit pour lui-meme le jazz style de musique pour toujours. Beaucoup d'apparitons solistes et des groupes suivirent.
David Herzel s'efforca, après des annés d'apprentissage classique, de faire des expériences profondes dqns des groupes de jazz, de soul et le Boogie Woogie et le blues. Les deux parcoururent de nombreux formations de groupe. Leur coopération s'agrandit ainsi que le désir de jouer de la musique Boogie Woogie et de différents styles de blues dans des petits ensembles.Leur engagement passionné provoquèrent la rencontre avec des musiciens célèbres comme Larry Garner, Jimmy Rogers, Johnnie Johnson (le pianiste et metteur en scène de Chuck Berry) et beaucoup d'autres scènes d'Europe. Depuis 1991 ils se trouvent partout chez eux sur les scènes des clubs du jazz et du blues, aux fêtes municipales, aux soirées de gala, aux cabarets, aux fêtes privées, dans les hôtels, sur les croisières et dans différents événements.
Olaf Jäger et David Herzel sont influencés par les pianistes comme James Booker, Roland Bird, Otis Spann ainsi que le trio d'Albert Ammons - Mead Lux Lewis - Pete Johnson et les musiciens de batteries de jazz-band comme Art Blakey, Big Sid Catlett, Jo Jones, J.C. Heard et Fred Below. Le dou The Original Contemporaries fait naître, de Stavanger (N) jusqu'à Nice (F), des passions et des joies d'esprit vital. Au dèlà, ils fascinent grâce à leur enthousiasme de musiciens de sorte que le fait de rester assis sur place ne soit plus possible. The Original Contemporaries offrent un spectacle individuel que les spectateurs n' oublieront à jamais. Boogie Woogie - Wild Blues - Jazz - Ragtime - Swing - Jive - Roll´ em Style ... the originale new
Olaf Jäger y David Herzel, ambos nacidos el 69, partiparon en numerosas Sessions en la escena de jazz y blues de Bielefeld, lo que les dio la oportunidad de entablar amistad y establecer una colaboración profesional. Los intensivos ensayos a dúo fructificaron en el deseo de dedicarse con más intensidad a esta música llena de vitalidad. Tras numerosas ediciones de MCs, en febrero de 1999 se lanzó al mercado su actual CD "Green Times Blue", que obtuvo una resonancia muy positiva y una calurosa acogida por parte del público. Otros CDs están en proyecto.La pasión de Olaf Jäger por el piano se remonta a la edad de seis años. Tras muchos años de aprendizaje con diversos maestros, descubrió su pasión por el jazz en forma de Boggie Woogie y Blues. Conciertos de diferentes pianistas le apasionaron hasta tal extremo, que este tipo de música se convirtió en su única obsesión. Siguieron numeras actuaciones en grupos y en solitario. David Herzel ha acumulado, tras años de aprendizaje en piano y percusión, mucha experiencia en grupos de Jazz, Soul y Latin. Los conocimientos adquiridos encuentran su expresión suprema en boogie woogie y blues.Juntos peregrinaron por múltiples formaciones musicales. Su colaboración fue creciendo al mismo ritmo que su afán de presentar a dúo en directo música blues´n boogie Woogie y diversos estilos de jazz. Su pasión por el jazz dio lugar a colaboraciones con importantes músicos, como Larry Garner, Jimmy Rogers, Johnie Johnson (pianista, arreglador de Chuck Berry) y muchos otros en los escenarios europeos.
Desde 1991 alegran Olaf Jäger y David Herzel con su música al público de clubs de blues y jazz, verbenas, galas, festivales, fiestas privadas, pubs, hoteles, cruceros y los más diversos eventos.La música de Olaf Jäger y David Herzel presenta influencias de pianistas como James Booker, Roland Byrd, Otis Spann y del gran trío "Albert Ammons - Mead Lux Lewis - Pete Johnson", y de percusionistas como Art Blakey, Big Sid Catlett, Jo Jones, J.C. Heard y Fred Below.
El dúo The Original Contemporaries despierta admiración y alegría de vivir desde Stavanger (N) hasta Nizza (F). Además, fascinan a su público con el entusiasmo de su interpretación, de tal modo que es difícil quedarse sentado oyendo su música. The Original Contempories ofrecen un show propio inolvidable para el público.
By the time in 1991 Olaf Jäger and David Herzel met each other as two ambitioned musicians wanted to work on Blues´n Boogie Woogie Music with their utmost joy. Both born in ´69 they decided to devote their lives to music from now on together.
They became one of the smallest Big Bands in the world. After years of classical piano education Olaf Jäger met a lot of contemporary Boogie up to Jazz Musicians. Together they went through stages of many bands which led them to play tightly with each other to feel the music, in an "Atmosphere sealed off from the fall out of a hyper - organised and noisy world".
This passion brought them on stages with musicians like Larry Garner, Jimmy Rogers, Angela Brown, Paul Weeden, Johnnie Johnson, Neils Wilde, and many others. They are influenced by pianists like the great trio " Albert Ammons, - Meade Lux Lewis - Pete Johnson " ; James Booker, Roland Byrd, Otis Spann, Cow Cow Davenport, Fats Waller, Jelly Roll Morton and drummers like Big Sid Catlett, Smoky Stover, Jo Jones, J.C.Heard, Fred Below, Art Blakey and S.P.Leary.
They create a lot of enthusiasm and happyness on concert tours in France, Denmark, Switzerland, Norway, Germany and Benelux Countries . They have their own uniqe show which makes the audiance dance through the Golden Twenties..
Olaf Jäger lærte efter årene med klassisk klaveruddannelse Christian Rannenberg og Christian Bleiming i Pink Piano i Osnabrück (Tyskland ) at kende, hvor han deltog i Jamsessions og fik meget Blues´n Boogie at høre. Denne tid prægede ham så meget at han opdagede Blues´n Boogie Woogie til sig selv. Mange solo – og bandkoncerter fulgte. Også David Herzel havde efter årene med klassisk uddannelse på klaver og slagtøj fået meget erfaring i Jazz, Blues, Soul og Latin Bands, hvilken han i Boogie Woogie´n kunne give det bedste udtryk.
De spillede i mange formationer. Efterhånden voksede deres sammenspil og deres ønske om at præsentere Blues´n Boogie Woogie musikken live i en tille besætning. I deres lidenskabelige indstilling til Blues´n Boogie Woogie mødte de musikere som Larry Garner, Jimmy Rogers, Angela Brown og mange andre de spillede sammen med. Påvirket bliver de endnu i dag af pianister som det store trio Albert Ammons – Pete Johnson – Meade Lux Lewis, James Booker, Prof. Longhair, Otis Spann og slagtøjsvirtuoser som Big Sid Catlett, Smokey Stover, Jo Jones, J.C. Heard, Fred Below og S.P. Leary.

På koncertturneer i Frankrig, Danmark, Schweiz, Østrig, Polen, Tyskland, og Benelux – landene vækker de ved tilhørerne stor begejstring og livsglæde. Ud over det opnår de to med deres spille – entusiasme, at publikumet bliver "smittet" og trangen til at danse ikke udebliver. The Original Contemporaries byder et eget show hvilket publikumet ikke vil kunne glemme så hurtig. .

Olaf Jäger begann mit seiner Klavierleidenschaft im Alter von sechs Jahren. Nach zahlreichen Jahren bei diversen Lehrern entdeckte er für sich den Jazz in Form des Boogie Woogie und des Blues. Konzerte von verschiedenen Pianisten begeisterten Ihn so sehr, dass er von dieser Musik nicht mehr lassen konnte. Viele Band und Solo - Auftritte folgten.
David Herzel hat sich nach Jahren klassischer Ausbildung an Klavier und Schlagzeug viel Erfahrung in Jazz-, Soul- und Latin -Bands erarbeitet, welche er im Boogie Woogie und Blues bestens zum Ausdruck bringen kann. Gemeinsam durchwanderten sie viele Bandformationen.
Ihr Zusammenspiel wuchs, ebenso wie der Drang Blues ´n Boogie Woogie Musik sowie verschiedene Jazz Stilarten in Minimalbesetzung live vorzutragen.Ihre leidenschaftliche Einstellung brachte sie mit bedeutenden Musikern wie Larry Garner, Jimmy Rogers, Johnnie Johnson ( Klavierspieler /Arrangeur von Chuck Berry) und vielen anderen auf den Bühnen Europas zusammen.
Seit 1991 sind Olaf Jäger und David Herzel auf den Bühnen der Blues- und Jazzclubs, Stadtfesten, Galaveranstaltungen, Kneipenfestivals, Privatfeiern, Hotelbars, Kreuzfahrtschiffen und den unterschiedlichsten Events zu Hause. Beeinflusst werden Olaf Jäger und David Herzel von Pianisten wie James Booker, Roland Byrd, Otis Spann oder dem großen Trio " Albert Ammons - Mead Lux Lewis - Pete Johnson " und Schlagzeugern wie Art Blakey, Big Sid Catlett, Jo Jones, J.C. Heard und Fred Below.
Das Duo, The Original Contemporaries, erweckt von Stavanger ( N) bis Nizza ( F ) Begeisterung und Lebensfreude. Darüber hinaus faszinieren sie durch ihren Spielenthusiasmus, so dass an Stillsitzen nicht mehr zu denken ist. The Original Contemporaries bieten eine eigene Show, die das Publikum nicht vergessen wird.
PROJECTS
CD´s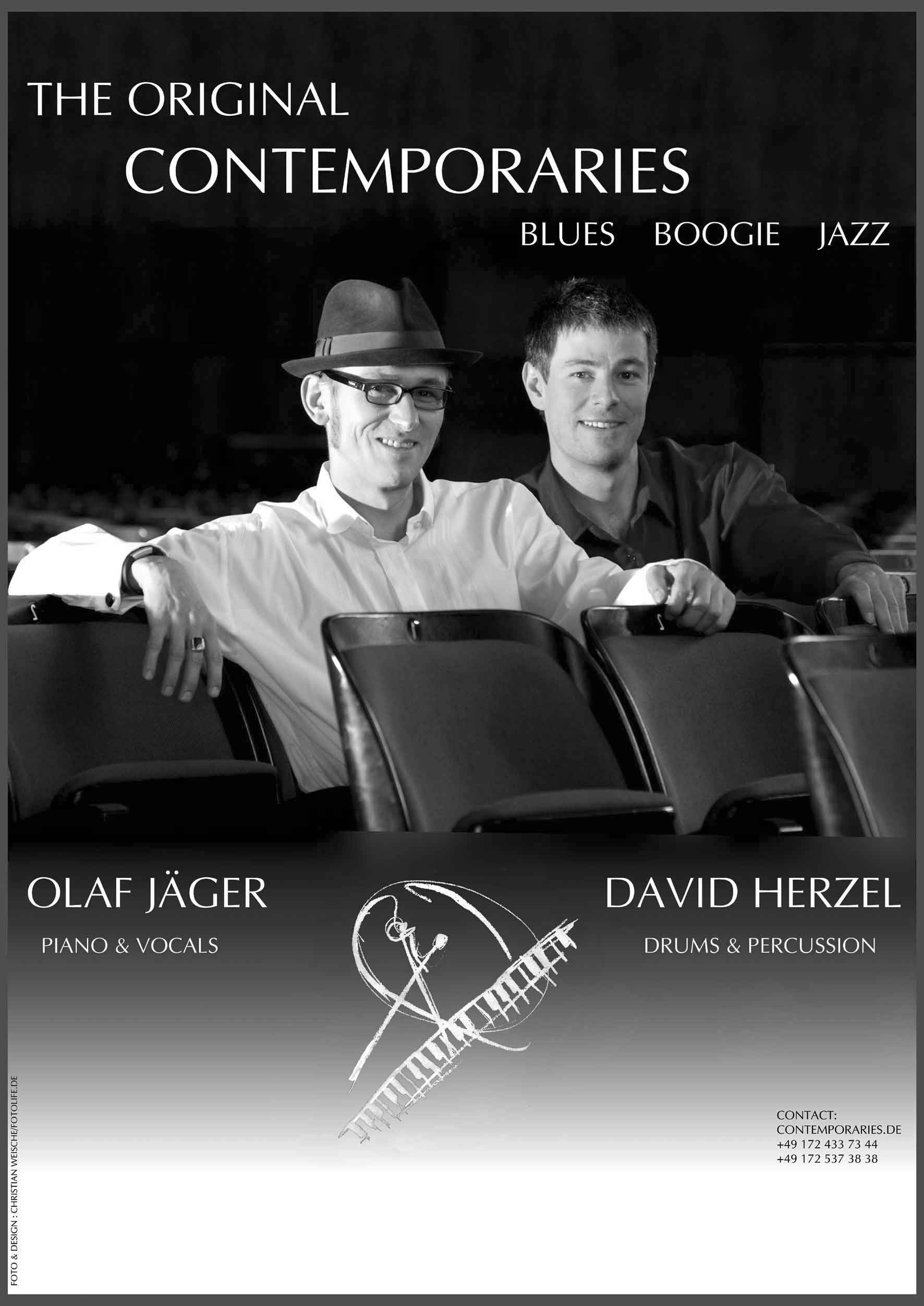 LINKS
PICS & VIDEO
INFO@
INTRO
TOUR DATEN
SOUNDS
PRESSE